Strolling through the cobbled streets and squares of Santiago, UNESCO World Heritage Site since 1985, will give you the feeling to be back in time, as most of the monuments date from the Middle Ages. Here you will witness a splendid and mystic past and a lively international present thanks to the many locals, students and high-spirited pilgrims and tourists that fill the streets. Santiago has a feeling of a 'big village', thanks to its size, the fact there are no cars circulating in the centre and the very friendly people you will meet. You will feel safe in this magical city!
You will find not only Romanesque and baroque churches, museums, elegant streets, majestic parks and some of the oldest University buildings but also many cosy cafes, traditional and contemporary restaurants and interesting shops. Santiago will not only give you a sense of bustling medieval town, it will also offer you a fiesta atmosphere with its unique musical tradition thanks to the opera singers, flute/guitar/violin-players, pipers, drummers, and of course, the TUNA, the group of students dressed in capes with colourful ribbons and emblems designating the history of their travels, playing traditional instruments and singing typical Spanish songs.
Wander around the ancient cobblestone streets and quaint back alleys, allow yourself a time to get delightfully lost in this ancient maze and enter in one of the many empty churches to absorb the magical atmosphere of Galicia. You will definitely fall in love with this Santiago de Compostela!
The first thing to do is go to the market then tour the old town's streets and squares before entering the Cathedral. We recommend waiting to enter the Cathedral until 12 noon to attend the pilgrim mass and get the chance to see the botafumeiro censer in action. However, if you would like to avoid crowds the best hours to visit the Cathedral are before and after the pilgrim mass.
We have put together more things that you can probably see in a day without stressing, however this is just an indication of where the main sites are, hoping this will help you make your way around this amazing city and select the few things that are interesting to you.
If you are interested about visiting Galicia and would like to take full advantage of your holidays, you could organise a private and personalised itinerary with us: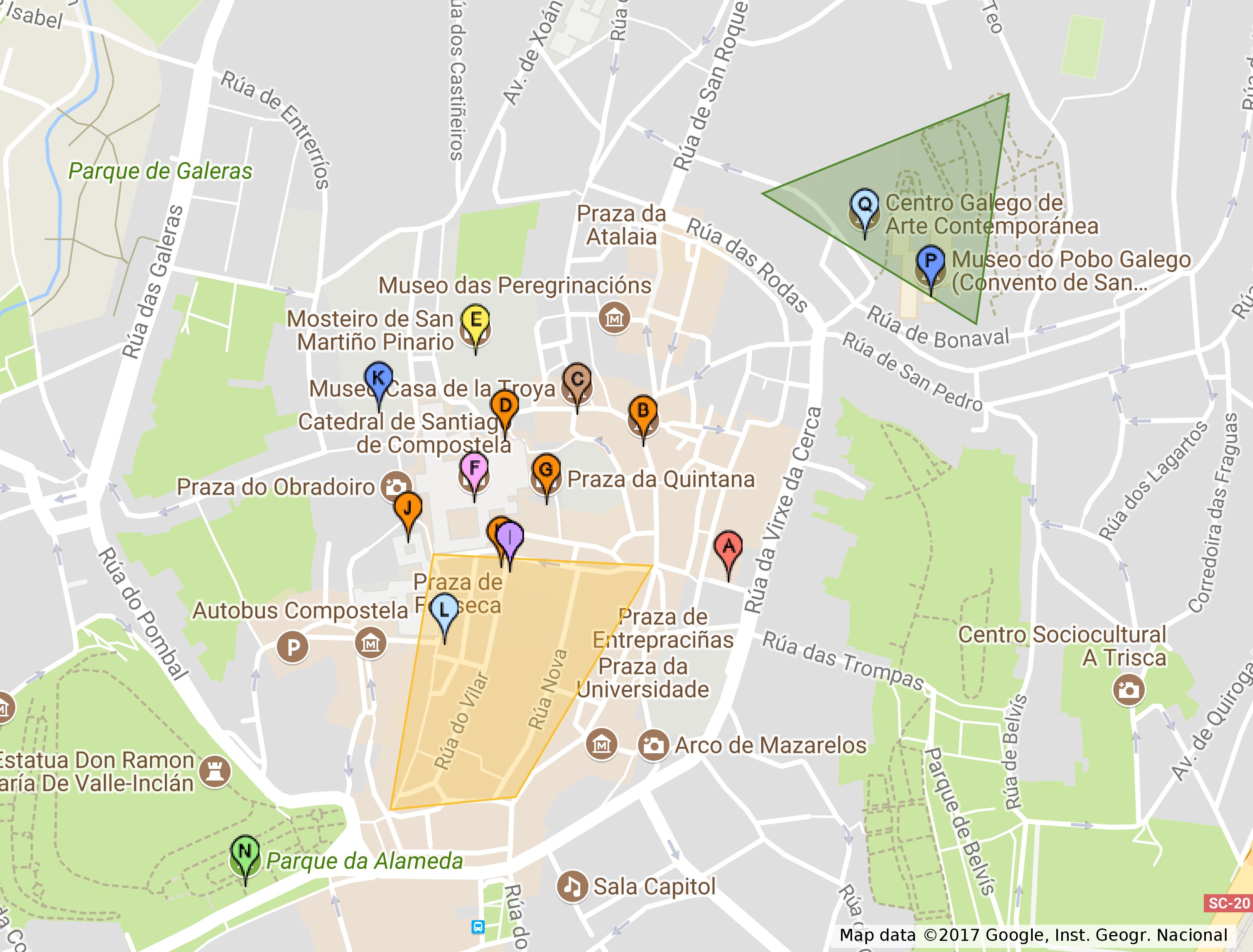 Click here for our full interactive tour map
Do you read online reviews? Did you think this map was helpful? Will you take a moment of your time to jot down a few notes about it on our Google My business site https://goo.gl/ZA9GzH? It is a fast, simple way for you to make a difference in a small company that is thriving to provide great products, services and prices.

WHAT WE CAN OFFER:
We can help you figure out a route, able to organise made-to-measure tours (whether you are a one-day stopover cruise or in a longer trip). We will make sure you feel welcome and perfectly at ease in this magical region.
If you would like to escape the large group tours for more intimate explorations with just your friends and family, discovering different and unique experiences, cultures and landscapes at your own pace and making certain you will not lose your ship, it makes sense to pay less for an independent and customised tour with us.
If you can afford to stay more days, we offer small groups, big experiences. You will taste exquisite food and wine, bath in healing thermal baths and unspoilt beaches, immerse yourself in the power of nature, walk on Celtic heritage in magic wonderland and celebrate festivities with the locals.