A Coruña is a city of contrasts; it has a very beautiful medieval quarter, grand squares, a stunning promenade with great urban beaches and the oldest lighthouse still in operation, a very lively port facing galleria style facades which give the city the nickname of the "Glass City" and it is home to Amancio Ortega, the owner of the Inditex Empire, therefore you will find a large array of choice if shopping is your thing. A Coruña is also famous for its varied and exquisite culinary offering.
A Coruña has some of the best urban beaches in Spain as it is a peninsula, so it is surrounded by sea except for the narrow entrance isthmus. Don´t follow the sea to find your bearings as you will end up losing yourself. The beaches are very popular with locals and, in summer, they host open-air concerts and the very popular St. John´s Bonfires.
If you like walking or cycling you can do so in Europe's longest seafront promenade, with stunning views to the ocean, which is 13 km/ 8 miles long. Alternatively you can stroll along the promenade which runs along the marina overlooking yachts, fishing boats and cruise ships. There are outdoor cafés both classic and contemporary, ice cream shops, restaurants and tapas bars if you want to relax enjoying lovely ocean and port views or watching the locals go by.
An oasis of peace and quiet can be found in a Coruña's old city. Its narrow cobblestone streets which lead to Medieval and Baroque buildings and to the discovering of enchanting and delightful sites like hidden plazas, Romanesque churches, traditional Galician houses with crystal galleries and little traditional places to stop for a drink or a bite to eat.
A Coruña, home to Zara also provides for some exciting shopping. From the Inditex Empire to the more specialized boutiques you will find plenty of exciting places for shopping around the Plaza de Lugo. You can also relax having a drink in some of the most fashionables cafés, tapas bars and restaurants in town.
While visiting A Coruña we advise you to enjoy tapas with the most sought after fresh and tasty products in the world, which in Galicia, is not just a delicacy enjoyed by a privileged few or a utopian desire for others. Of course, you will have to savor our tapas with the seductively expressive wines of Galicia.
We have put together more things that you can probably see in a day without stressing, however this is just an indication of where the main sites are, hoping this will help you make your way around this amazing city and select the few things that are interesting to you.
If you would like to take full advantage of your day in A Coruña, you could organise a private and personalised visit with us: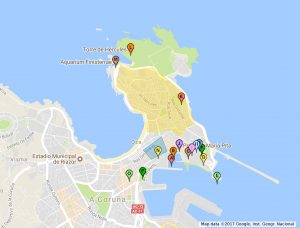 Click here for our full interactive tour map
Do you read online reviews? Did you think this map was helpful? Will you take a moment of your time to jot down a few notes about it on our Google My business site https://goo.gl/ZA9GzH? It is a fast, simple way for you to make a difference in a small company that is thriving to provide great products, services and prices.

WHAT WE CAN OFFER:
We can help you figure out a route, able to organise made-to-measure tours (whether you are a one-day stopover cruise or in a longer trip). We will make sure you feel welcome and perfectly at ease in this magical region.
If you would like to escape the large group tours for more intimate explorations with just your friends and family, discovering different and unique experiences, cultures and landscapes at your own pace and making certain you will not lose your ship, it makes sense to pay less for an independent and customised tour with us.
If you can afford to stay more days, we offer small groups, big experiences. You will taste exquisite food and wine, bath in healing thermal baths and unspoilt beaches, immerse yourself in the power of nature, walk on Celtic heritage in magic wonderland and celebrate festivities with the locals.